I'm not an avid movie watcher, and Korean movies are not an exception to that rule. Recently though I watched my first Korean movie, Train to Busan along with my siblings and a close friend.
Disclaimer: Spoilers lie ahead. Tread at your own risk.
To put it shortly I was somewhat underwhelmed and felt this movie did not live up to its hype. Maybe it has something to do with the fact that I don't believe most movies live up to their hype in the first place.
Something I did like though was the impeccable acting, aggression, and dedication of the zombies. They moved sporadically and growled with so much conviction that rather than be afraid I marveled at how much effort the actors put into becoming the deranged dead. I mean, how could human beings move so vigorously at that speed?
As I'm not an expert at creating movies, I questioned whether or not it was due to phenomenal editing.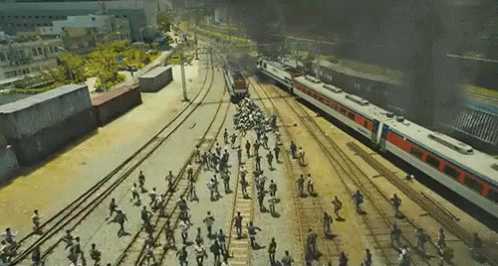 The main character, heartthrob and Goblin star Gong Yoo who played Seok-Woo, along with Ma-Dong-Seok, who played a super promising father with a kid on the way, and Kim Eui-Sung, who played the role of the evil guy who just wanted to see his mother, were all phenomenal actors in their own respect. But the person that wowed me the most was the child actress Kim Soo-Ahn, who played the young daughter who wanted to see her mother in Busan on her birthday. In one of the ending scenes in which she was screaming as her father was passing before her eyes, I completely forgot that she was acting. Like I forgot that I was watching a movie in which people were portraying characters that do not exist in real life and all I could think about was how haunting her screams were prior to recognizing how brilliant she was.
Now, I'm going to be honest. I saw the ending scene of Train to Busan a while before I saw the entire movie, as I got curious about the hype while my roommate was watching it in our college dorm. So yeah, perhaps that has something to do with the deflation I felt after watching it from the beginning.
After getting to the end scene once again, as touching as it was, other than thinking about how creepy Seok-Woo's smile was, I couldn't help but feel underwhelmed. Maybe because the suspense wasn't there from the beginning as I knew how things were going to end. Yeah, I'll leave it to that. I'm sure that has a lot to do with it.
When I think about it, I was surprised that Seok-Woo didn't survive until the end. The part of my brain that controls unrealistic thoughts assumed that him, the pregnant woman Jung Yu-mi, and his daughter Soo-An would all run off into the sunset together and start a whole new life somewhere.
It's also feasible that two of the least likely candidates to survive the trip actually making it to the end had some deep symbolic meaning. Like, don't judge a book by its cover or some other elementary school quote.
Nevertheless, the point is I was not completely satisfied at the end. The inner movie director in me wanted them to come up with a sequel in which the daughter is grown up, and I don't know, trying to take down the selfish people who started the zombie invasion in the first place.
Aside from all that, for anyone who loves good looking male leads, suspense, zombies, gore, and life lessons, this is the movie for you!
What are your opinions on Train to Busan? Love it, hate it? Did you hope for an alternate editing like I did? Let me know in the comments section down below.
Also, subscribe for more Asian Shows, Movies, Music & More!
Until next time,